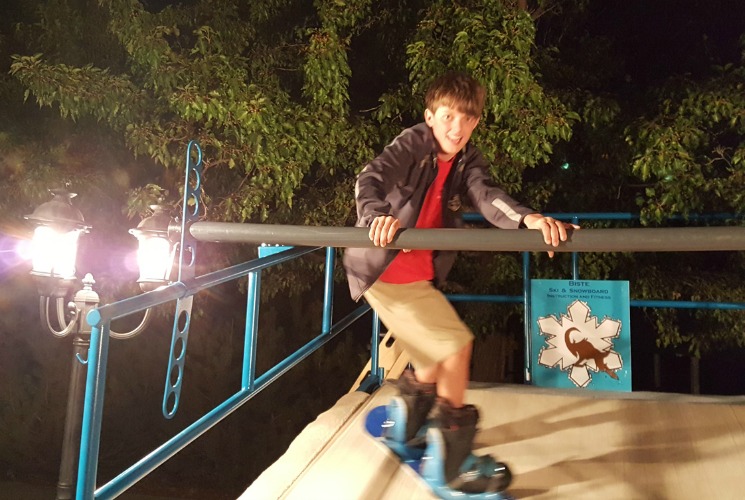 Snow Biste can come to you. It's designed to be portable and requires only a 20'x15' space to operate.
Corporate Events
Giving back is one of the best ways your company can show its clients and employees how much it cares.
Many companies offer Saturday picnics, Christmas Parties, or team building activities. With the Snow Biste, not only can you show them you care, it's edutainment is a fun way to teach them skiing and snowboarding.
For companies moving into the Reno/Tahoe area – you probably have a bunch of employees excited about living in a winter wonderland, but have no idea of how to learn properly.
Providing your employees with this training not only prevents them from injuries that may cause attrition, it can also be a wonderful team building event for new employees to the area.
Our corporate events and classes are fun, fast, easy to access and healthy.
Snow Biste is the most unique activity you could offer at your company picnic.  There is no snow, water, or gel required for the deck. It's a year round attraction that would surprise and delight at your company picnic.
It's also an activity that both young and old can enjoy!
But…don't forget to have lots of food on hand because good clean exercise can build up quite an appetite!
Surprise your employees and book the Snow Biste here.
Private Events
The Perfect Party Rental for Summer Birthday Parties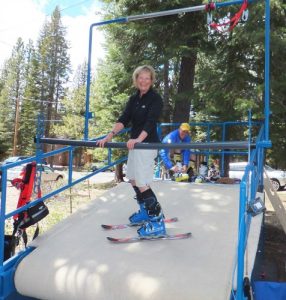 Many die-hard ski fans have their birthdays in the middle of summer.  Skiing themed birthday parties have been little more than video games.
Imagine the look on everyone's face when the Snow Biste pulls up! Children and adults both light up at the prospect of getting to try something new.
The Snow Biste is more than just some entertainment rental. It requires no water, snow, or gels for its services. So, cleanup is as easy as unplugging it!
Individual training and group training is available.
Its deck is made of a soft padded track so anyone can enjoy skiing and snowboarding in the summer time.  After a private day on the deck, you'll be eligible to take lessons at a discounted rate.
Children as young as four have learned how to descend our Snow Biste.  No one stops smiling when it's their turn to ski. Group fitness can accompany these private lessons too.
-Snow Biste services are also available for fundraisers, church functions, schools etc.
-Snow Biste services are also available for Fund Raisers, Church functions, schools etc.
-Call for details on ski deck requirements and scheduling or click here.
Conquer the mountains before ever stepping foot on them!
Call us (775) 741-9474 or Contact Us today!